'Baytown Best Sellers' Coffee Starter Pack
Everything you need to brew up
Regular price
Sale price
£19.99 GBP
Unit price
per
Sale
Sold Out
Description
Looking for the perfect gift for the coffee lover in your life, or you simply want to sample our unique range? You'll have all the kit you need to get started on your home brewing journey. Our coffee starter packs come with a MUNIEQ Tetra dripper, filter papers as well as further discounts. The perfect gift to introduce a coffee lover to Baytown.

The 'Baytown Best Sellers' Coffee Starter Pack selection brings together Albion St., The Bolts and Boggle Hole the perfect Baytown mix however you brew your coffee. 

Inside each Coffee Starter Pack, you'll find:
3 x 80g bags of our best selling coffees (choose if you prefer beans or ground coffee for filter)
Foldable Tetra Drip coffee filter worth £10.99 
12 x coffee filter papers
Voucher for 10% off your next order
So not only will you get three of Baytown's fantastic artisan coffees to try, we've made the offer even better by throwing in a fantastic filter dripper that will get you started on your journey to fresh, home brewed, great coffee.
Foldable Tetra Drip coffee - Worth £10.99 this foldable Tetra Drip is easy to assemble and stores flat. It brews up to 1 and a half cups of coffee, perfect to put in your bag and take with you anywhere.
12 x coffee filter papers - We've included 12 free filter papers that are compatible with the Tetra Drip so you have enough to try each of your coffees 4 times!
Voucher for 10% off your next order - You or your friend enjoy your starter pack? We've made it easier to get your hands on your next batch, with 10% off your next order.
Coffee how you like it - Want to grind your own beans to get the freshest coffee every day? No problem. Otherwise simply select 'Ground for filter' and we'll grind the beans for you.
The coffees
Our best-selling Boggle Hole is one of the deepest and darkest coffees. It's a seriously smooth, very dark-roasted blend of Brazil Monte Alto and Colombia Supreme. You could describe it as an after-dinner coffee, but we think it's big and intense enough to be an incredible breakfast coffee too. 
Specifically designed for the filtered coffee technique, Albion Street brings you a blend of Brazil Monte Alto and honey-processed Costa Rica Hermosa coffee beans.

The Bolts is a premium espresso, with a blend of Brazil Monte Alto, Colombia Supreme and Costa Rica Hermosa beans. 
Fits directly through your letterbox
Finally, it's perfectly designed to fit through your letterbox, even if you're not in, your coffee will arrive fresh.
Need more advice? Feel free to get in touch with us and we'll do our best to help you out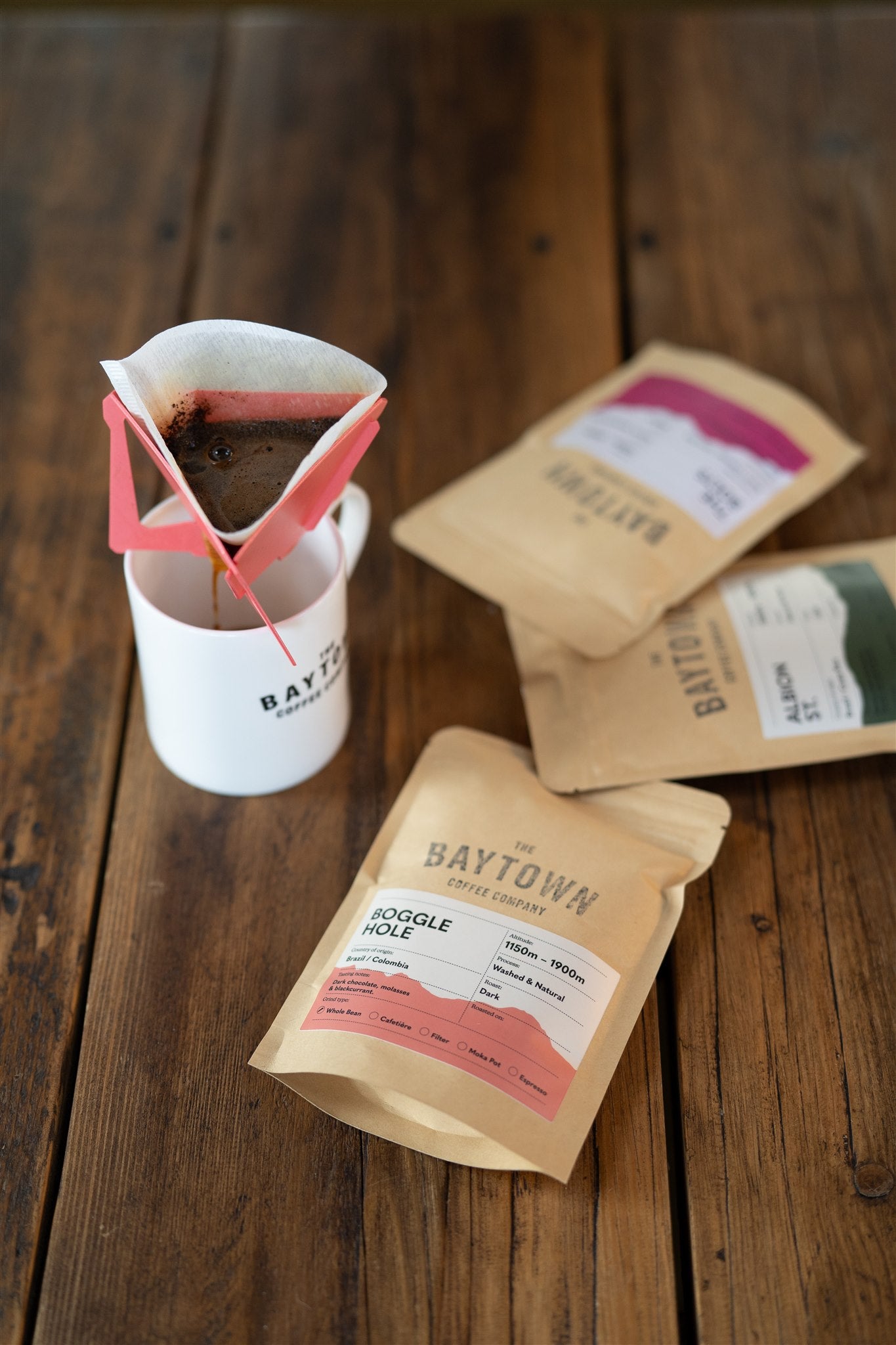 Why shop with Baytown?
10% off if you Sign up

Simply sign up for our newsletters and we'll email you back a voucher for 10% off.

Free Gifts

Free bag of Coxswain Coffee (worth £8.50) when you spend over £60.

Free Delivery

Spend £30 or more & we'll deliver to your doorstep for FREE!