The Bolts Coffee
Chocolate, Cherry & Hazelnut. Deliciously rich, powerful & Balanced.
Regular price
Sale price
£8.00 GBP
Unit price
per
Sale
Sold Out
Subscribe and save.
Join Coffee Crew and get free delivery on each box.
Description
For a truly exceptional espresso experience choose The Bolts, our go-to espresso blend that combines beautifully with milk to create superb cappuccinos, lattes and even flat whites! 
This medium roasted blend offers hints of chocolate, a little bit of cherry and a dash of hazelnut to make for a balanced but powerful coffee that can be consumed throughout the day.
COFFEE ORIGINS
The Bolts uses 3 unique and flavourful coffee beans, sourced from Brazil, Colombia, and Costa Rica. 
Brazil Monte Alto, is a pulped natural coffee sourced from the Guaxupé region of southern Brazil. Grown at an altitude of 1,150m above sea level, this high-grade coffee is well rounded, smooth and offers relatively low acidity.
Colombia Supreme is grown at an altitude of 1,800m to 2,000m in the Antioquia and Huila districts of North-western Colombia. The cool, mountainous climate prolongs the development of the coffee cherry, deepening the flavour of this washed coffee.
Costa Rica Hermosa is honey-processed, giving the coffee a distinctive and natural sweetness. Grown at 1,500m above sea level, in volcanic soil found in the Tarrazu region of Costa Rica. Balanced and flavour-packed, this coffee bean is simply superb!
Information
Country of origin:
Brazil, Costa Rica and Colombia
Process:
Washed and Honey
Altitude:
1,500 - 2,000 metres
Tasting notes:
Chocolate, Cherry and Hazelnut
Need more advice? Feel free to get in touch with us and we'll do our best to help you out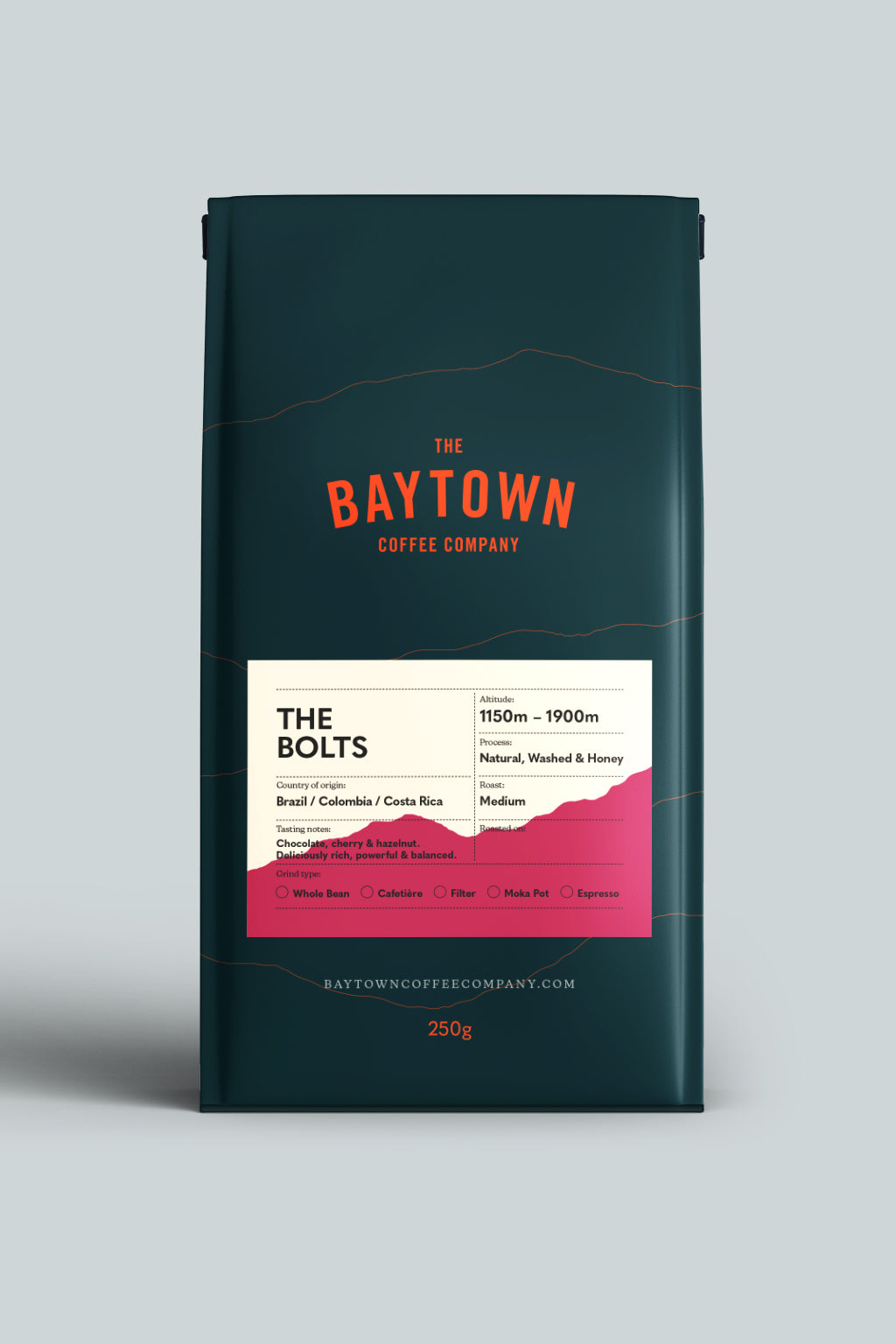 Why shop with Baytown?
10% off if you Sign up

Simply sign up for our newsletters and we'll email you back a voucher for 10% off.

Free Gifts

Free bag of Coxswain Coffee (worth £8.50) when you spend over £60.

Free Delivery

Spend £30 or more & we'll deliver to your doorstep for FREE!