The Half-Caff Pack
For those who like their coffee with, and without caffeine
Regular price
Sale price
£17.00 GBP
Unit price
per
Sale
Sold Out
Subscribe and save.
Join Coffee Crew and get free delivery on each box.
Description
Everyone needs a little pick me up! Sometimes, we just want some hand-roasted coffee goodness…without the caffeine! 
That's why we've created the Half-Caff Pack, combining our best-selling Boggle Hole with our delicious decaf – Ness Point.
Boggle Hole is our deepest, darkest coffee. A seriously smooth, very dark roasted blend of Brazil Monte Alto and Colombia Supreme. You could describe it as an after-dinner coffee, but we think it's intense enough to be an incredible breakfast coffee too.
We spent a long time perfecting a decaf with a 'full-fat' coffee feel. Ness Point uses coffee beans sourced from Peru. The beans are processed using the Swiss Water method, being naturally decaffeinated using only water. This process is organic and 100% chemical-free.
So, whether you enjoy a cup of the good stuff in the morning or after dinner, we've got you covered with the Half-Caff Pack.
Each Half-Caff Pack includes 2 x 250g bags of coffee
Need more advice? Feel free to get in touch with us and we'll do our best to help you out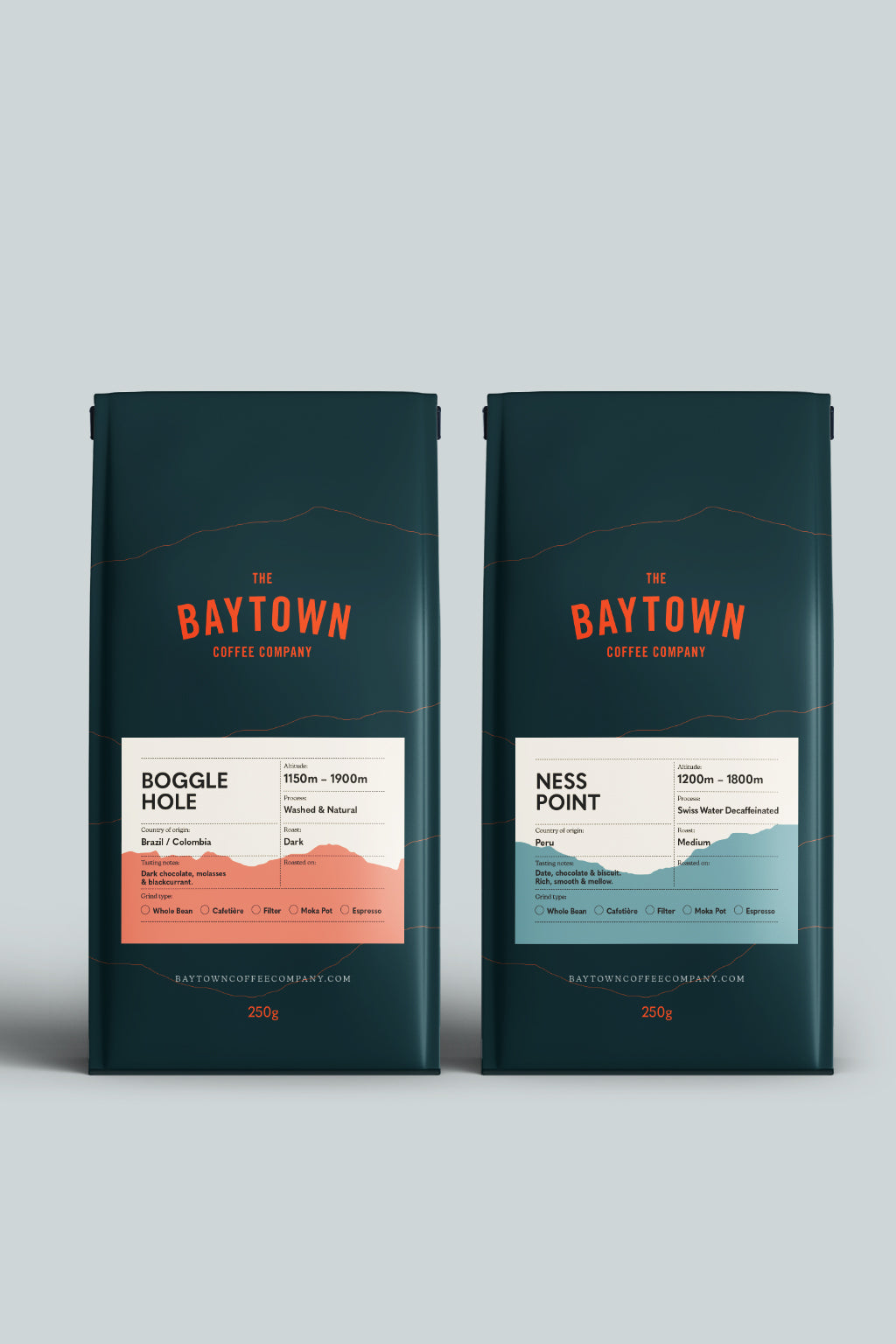 Why shop with Baytown?
10% off if you Sign up

Simply sign up for our newsletters and we'll email you back a voucher for 10% off.

Free Gifts

Free bag of Coxswain Coffee (worth £8.50) when you spend over £60.

Free Delivery

Spend £30 or more & we'll deliver to your doorstep for FREE!